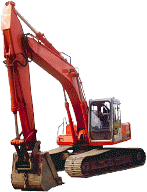 We perform work within these divisions:

Delivering of slate and natural stone for brickwalls

Water and draining

Groundwork for buildings

Road construction

Uploading


Mass transport

Delivery of

masses – all types

Various repairment work on constructions equipment and vehicles

Our company has got internal control, HMS and quality safety system.

This is to oblige the authorities' commands and for the safety of our customers.

Are you thinking about or planning any work, you would like to get done?


It can be smaller brickwalls, extensions, garages, tool sheds, roads, ditches, drainingsystems,terraces etc, but you are probably worried about writing long applications, or are you uncertain about the regulations? Look at Statens Byggningstekniske etat. Here you can find application forms that you need fore your building case. These forms you can fill out right there on the computer.

Natural stone for support walls
From our stone quarry at Skånevikstrand Maskinstasjon we deliver bricks of perfect quality in all shapes and sizes, all at the costumers request. In the quarry the brick is loaded

directly into

containers which are

transported

to the building sites with

trucks. This means minimal damage on the stone

We delivered stone /bricks to roadsafetywalls in Rosendal. ( Seimsfoss – Neslia). This road was by late mayor in Kvinnherad nominated to a Beautiful Roads' Prize.