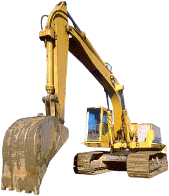 Since the establishment in 1983, Skånevikstrand Maskinstasjon AS has had a lot
of commissions and jobs. We are authorized by

Statens Byggtekniske Etat. Here is a summary of some major jobs that we have been engaged in till now.

Goodbye to "Blomsterkroa"

( 22.11.06)
We got an assignment by Etne kommune and Krambua B&S AS. Øyvind Åsheim (with truck) and Paul Ove Nordbø (on excavator) carried out the work.

Workstart at Vintertun ( 31.10.06)
Today the constructionwork starts on the new E 134 across Vintertun. It will be done by November 7. next year. It's Mesta that has got the main contract, and about 30 men will be building a 3,2 kilometre long way from the border between Etne and Odda, past Vintertun.
- We are building a little tunnel on 90 meter on the border between Børstø and Vintertun. Then there will be a new road on the other side of the river past Vintertun, the project director in Mesta, a man from Karmøy, Lars Harald Nordnes, tells us. He says that the first couple of days they will mostly just be getting ready all the equipment. Office barracks will be placed in the picnic area on Vintertun.

The machine work will start on the other side of the road by the picnic area in about a week. Mesta has two firms that will be performing the excavating - ,and mass transport – work. They are Skånevikstrand Maskinstasjon and Brødr. Flatebø, Etne.

Read article in Haugesunds Avis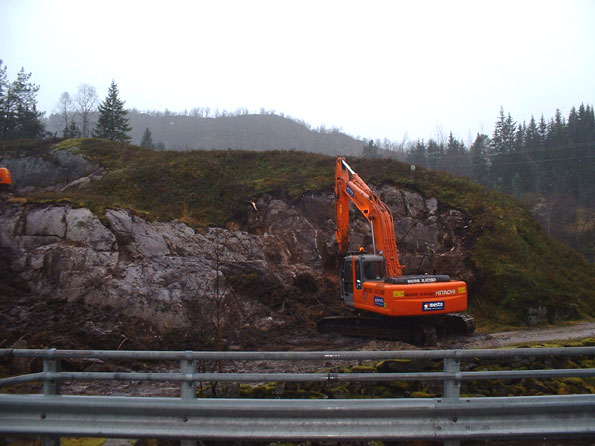 Excavating has started at Vintertun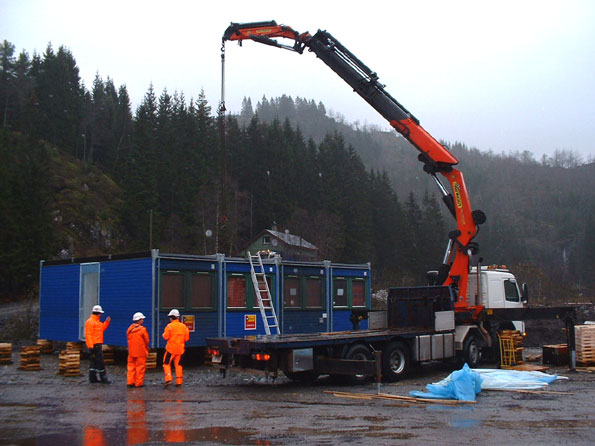 The barracks are getting ready

The Rullestadtunnel is done (03.07.06)


Skånevikstrand Maskinstasjon has had quite a lot of work in connection with the building of tunnel and road past Rullestadjuvet. Friday, july 30. the new road was opened.

Read article in Haugesunds Avis

More about building in Hordadalen (28.10.05)


The preparation of the cottage/cabin area in Hordadalen has come a long way. Tungesvik Bygg AS already has a lot of cottages they are working at.

Check out the Pictures from the cottage area.




Pictures from the cottage/cabin area. frå hyttefeltet.

Progress in Hordadalen ( 29.08.05)
We are working hard in the cottage area in Hordadalen, and we are seeing progress! Due to the building of new and roads to get to the working area, the project will not be finshed before spring 2006. As the work proceeds the sites are prepared and getting ready, and today to cabins are being built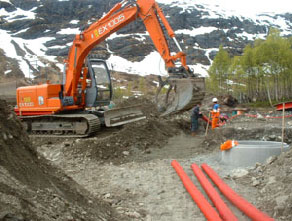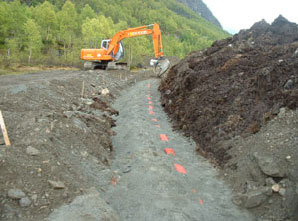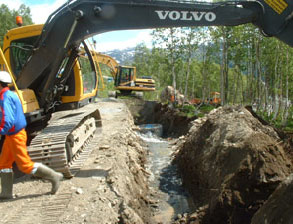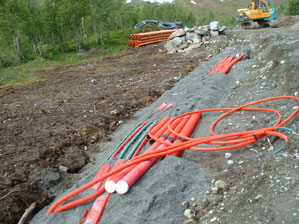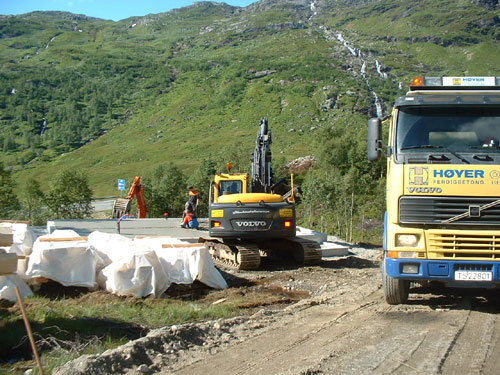 ---

Development in Hordadalen

( 19.09.04)
Skånevikstrand Maskinstasjon got the main enterprise of the first building step in the full reprocessing of a cabin site area for 38 sites in Hordadalen. The work started 20.September and shall be done 1.October 2005. Knut Erik Ebne is the work leader where 6-10 persons will be at work. Take contact if you are interested in preparations of sites. Johansen Rør is going to deliver pipe material etc. Tungesvik Bygg has got some deliverance too.

New road in Rullestadjuvet

( 27.07.04 and 09.09.04)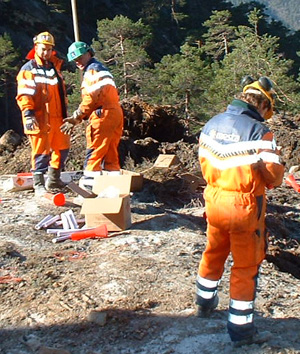 Finally on 15.03.04 and it was ready for starting up the new road project in Rullestadjuvet. The stately road authorities (Statens Vegvesen) announced whole enterprise in the Autumn 2003, and Mesta AS got it for ca. 170 mill. NOK. and a construction period for ca. 2,5 years. Local contractors consisting of Brødr. Flatebø AS, Lastebilkontoret in Odda and Skånevikstrand Maskinstasjon cooporated when Mesta announced the work of transporting and cargoing. They got the job with a minimal margin to other competing companies. Altogether for this project there can in periods be about 25 persons engaged in building six kilometres of road, where 2,9 kilometres is a three lanes tunnel.
After three weeks work in the tunnel, the area is now so wide that semi trailers/heavy trucks might be used for transporting masses out of the tunnel and down to the lake "rullestadvatnet". During October four vehicles will be doing this work.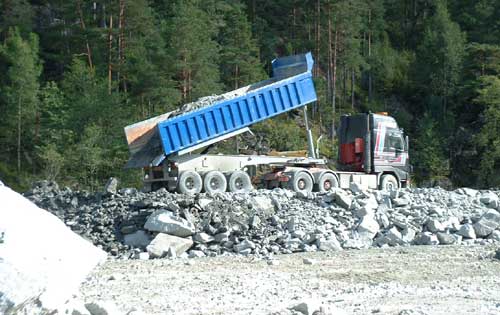 One of our many vehicles

See pictures and read article in Haugesunds Avis

( 04.08.04 )
---

New expansion at Kårstø ( KEP 2005 )


Stavanger entrepreneur T.Stangeland Maskin AS got he contract of groundwork from "Veidekk". Our company," Skånevikstrand maskinstasjon", has been hired by TS AS Caterpillars, lorries and skilled workers.

Read article in Haugesunds Avis
---

New Tunnel at Stana in Hardanger


Statens Vegvesen Hordaland started during Summer 2002 the buildning of a new tunnel at Stana in Hardanger. The Tunnel is about 700 metres and the buildning project is run by " Vegvesnet/Mesta". The work also includes 1500m2 with granit brickwork in the tunnelmouths and Skånevikstrand Maskinstasjon got the granit delivery that in periodes of the project means three truckrloads daily. One of our experienced drivers, Jan Erik Jensen from Kyrping is going to represent us with his new Kobelco excavator on the granitlaying project. The work will be finished in September 2003.
---

Pedestrian/ bicycle path at Neslia in Rosendal, Kvinnherad
Statens Vegvesen Hordaland are making a new pedestrian – and bicycle path at Neslia in Rosendal. They are running the work, finished during the Summer 2003.

Our company have participated with some caterpillars with father and son Stålesen as drivers.They are laying natural stonebricks that we are delivering.
---

New road next to Grønsdal between Skare and Odda
Statens Vegvesen Hordalen is updating a part of the road between Skare and Odda in Odda community. Statens Vegvesen is running the job and it is going to be finished in 2002-2003. Most of the work consists of moving volume and natural stone for brickwork. The new brickwork has to look like the old because we have to take care of the watersystem. Skånevikstrand Maskinstsjon has been represented with two caterpilledtracks. We have also got the total delivery of bricks, 1-2 deliverings every day.
---

V & M Kårstø
Veidekke was the lucky winner when a new maintenance contract was laid open this autumn. This is a contract containing all the maintenance for the next six years. Skånevikstrand Maskinstasjon is going to work together with several subsuppliers at jobs that include excavating work and winter maintenance at Statoil Kårstø.
---

Ei mindre utbygging på Kårstø
Veidekke blei i januar 2002 tildelt kontrakten på NET-1,ein mindre utbygging på Kårstø .Kontrakten på ca.25 mill. har krav om at arbeidet skal vera ferdig i januar 2003 og Skånevikstrand Maskinstasjon blei valt av Veidekke til hovuedlevrandør av entreprenørtenester som transport, graving, meisling, komprimering osv.. På det meste har inntil 8 personar vore engasjert i dette prosjektet.
---

Enlarging/expanding the E-134, Åkrafjordvegen
We have been engaged since the start 10 years ago. Following tasks can be mentioned bricklaying of granitwall, cargoing, transporting, ditces and service gutters, and chiselling for instance in the Markhustunnel.
---

Enlargement at Karstø


Counting the last enlargement at Kårstø (KUP) we have been engaged there since the start with up to 12 units. In addition we have made a collaboration deal with Håland & Karlson AS about all maintenance work which is done in the foundation side of Kårstø. This work includes among others working and attendance of roads.
---

Statens Vegvesen Hordaland is building a new foot and bicycle path from Seimsfoss to Rosendal in Kvinnherad municipality.


The contractor firm of Gunnar Røssland AS from Husnes has the main contract of the work including 3000 m² with granite brickwork. Skånevikstrand Maskinstasjon was chosen as main deliverer of bricks and brickworks necessary machinery

See pictures
I tillegg til dette held vi no på med diverse mindre oppdrag rundt om i distriktet.

Pictures from our activities
---